HOME
>
SUPPORT
>
NITECORE HU60 & NPB1 E-focus Elite Headlamp Set Chosen as Winner of ISPO Award 2021
NITECORE HU60 & NPB1 E-focus Elite Headlamp Set Chosen as Winner of ISPO Award 2021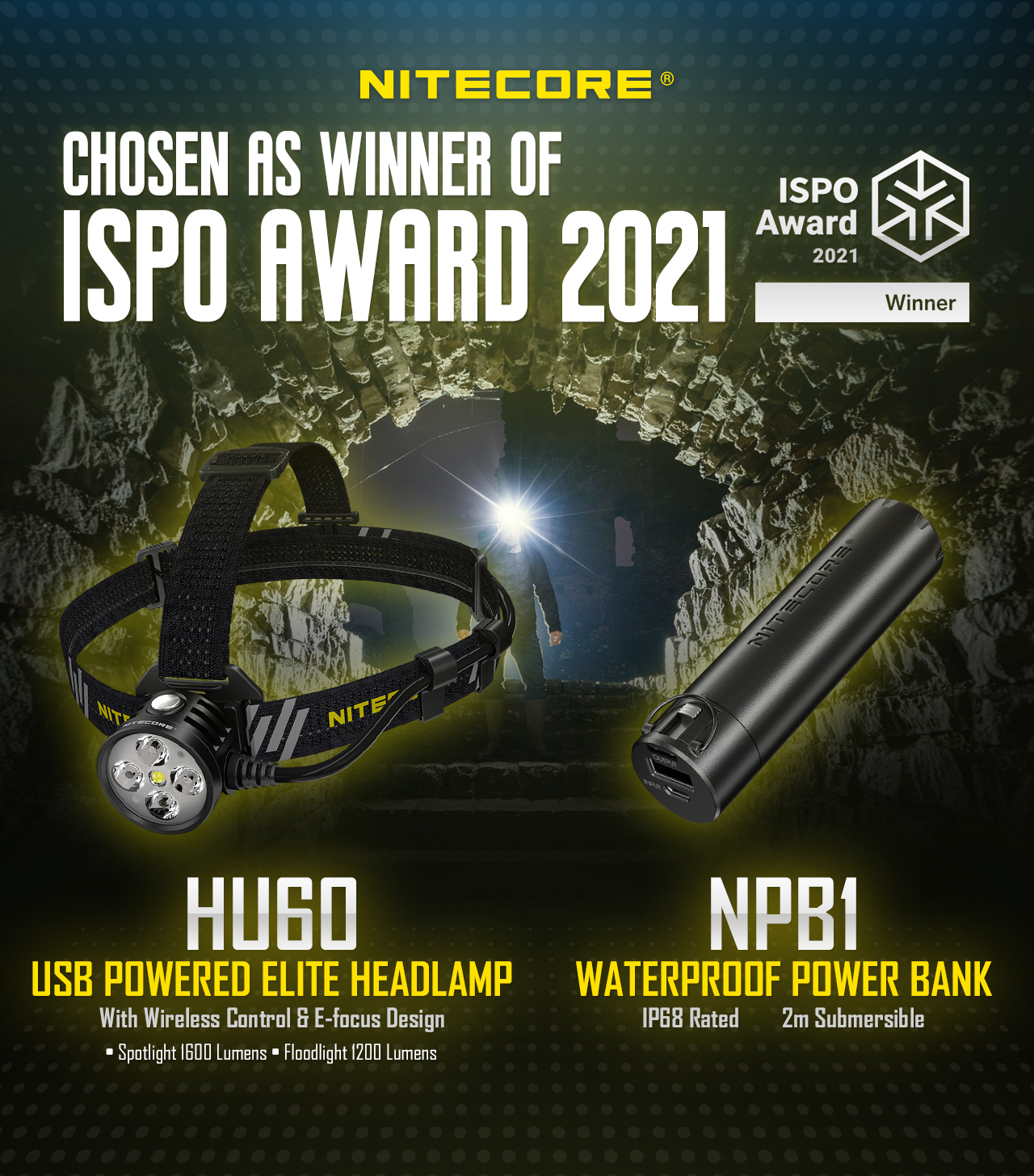 With the ISPO Award, the internationally leading sports business network ISPO honors the outstanding products of the sports industry every year. Just in the beginning of 2021, the HU60 & NPB1 E-focus Elite Headlamp Set is awarded as Winner of ISPO Award of this year. Independent expert juries evaluate several hundred submissions according to precisely defined criteria, even from non-exhibitors at ISPO trade fairs. This top-class selection is a welcome orientation aid for both sports business professionals and consumers. This selection thus serves the specialist trade as a basis for decision-making when putting together the next range and the consumer increasingly as a purchasing argument. Both trust the neutral judgment of the jury.

The HU60 is the first E-focus headlamp in the industry powered by a USB power source and available for wireless control with a wristband remote. It is available with free-form stepless output ratio adjustment of the spotlight and floodlight, providing a professional and precise way of controlling the beam. Moreover, 5 beam patterns are already preset for quick and convenient selection between various scenarios. Constructed from aero grade aluminum alloy specially designed for outdoor applications, the body of the HU60 has a light weight of only 117.5g (4.14oz). The split type headlamp design greatly eases the burden of the head and increase the flexibility of the headlamp and is available to place the power source in the backpack or the pocket to keep it warm and guarantee a stable performance in the cold environment. The standard USB plug is compatible with NITECORE NPB Series power banks and universal USB power sources for customizable power source selections with different runtime.

With an outstanding water and dust resistance, the NPB1 is the world's first IP68 rated waterproof power bank and remains unaffected after 2-meter underwater submersion for 30 minutes, perfect for caving, trail running, maintenance checks and more. It is ultra compact and highly portable to be stored in a backpack or a pocket with a light weight of 105g (3.7oz). The most common Micro-USB + USB-A design makes the charging process incredibly convenient available with QC 3.0 and a max output of 18W.

For years, the ISPO Award has established itself internationally as a trendsetting award for outstanding products. Retailers value it as an orientation aid for their upcoming range selection, journalists as a summary of groundbreaking product innovations and customers as a preview of tomorrow's market highlights.

With the industry-leading innovative power for 14 years, NITECORE specializes in product lines varying from tactical flashlights to outdoor lighting equipment and power solutions specially designed for law enforcement and military departments, industrial corporations and outdoor enthusiasts worldwide. We will "Keep Innovating" and release more innovative products as the trend leader of the industry.