NITECORE is Proud to Be the Sponsor of MTB Pomerania Maraton and Pomerania Trail
January 27th 2022
Recently, NITECORE has the honor to be the Lighting Equipment Sponsor of MTB Pomerania Maraton and Pomerania Trail.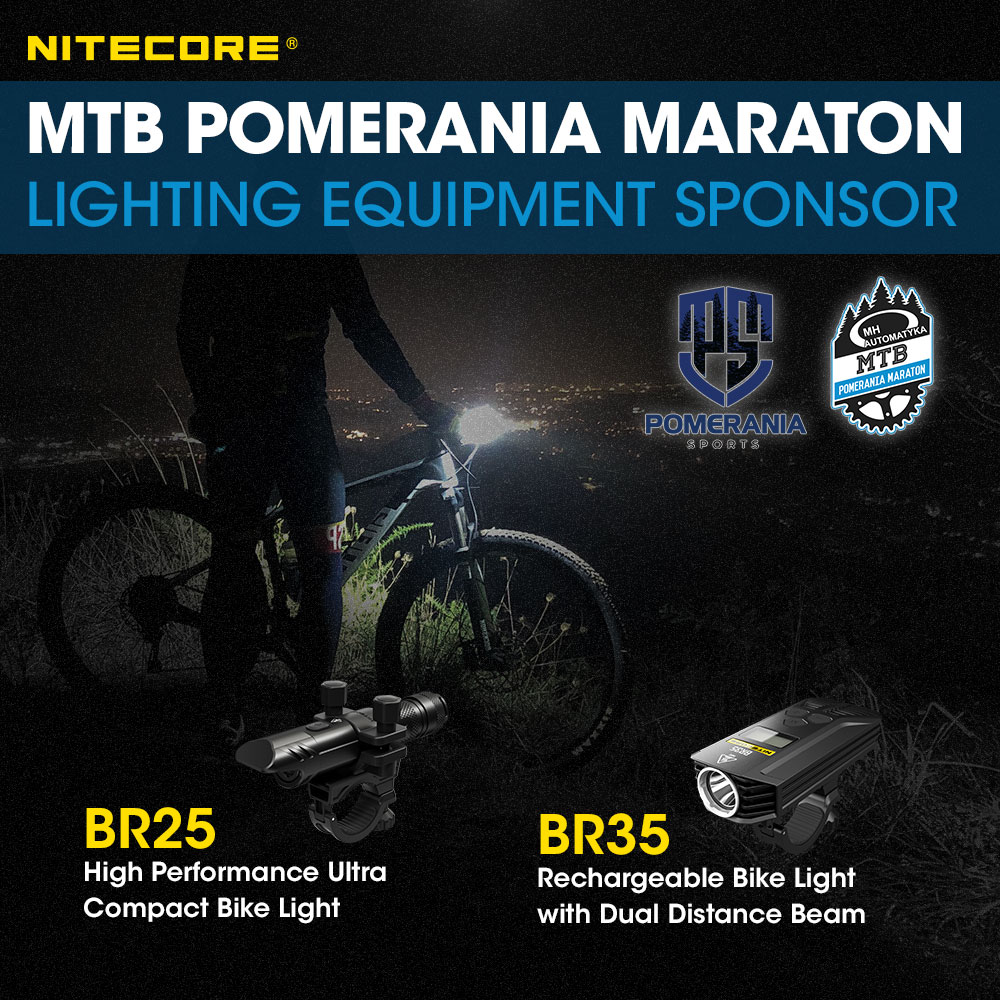 The MTB Pomerania Maraton is an annual cycle of MTB bike events that take place in the forest, the best parts of Pomeranian Voivodeship in the north of Poland. Each edition of MTB events is prepared with two routes. The SPEED distance (25-35km) is easier for amateurs, ideal for people who are over 11 years old; the MEGA distance (50-70 km) is difficult for professional cyclists, for people who want to challenge themselves in the professional peloton. In recent years, more and more people from all over the world have become participants in MTB events. As the Polish National MTB Cup is likely to be held, the average attendance at each edition is around 400. In 2022, Pomerania MTB Maraton has 8 events from March up to September for riders to collect the points to the general qualification aiming to win in their categories at the end.
Pomerania Trail is the largest Anglo-Saxon run in Pomerania (north of Poland) which consists of 5 runs to be chosen – 12km / 25km / 43km / 64km / 100km. The Pomerania Trail event takes place in October, so the runners may meet with difficulties like rain, cold air, mud, and snow. However, attendance is growing year by year. Especially, there are over 740 runners around the world in 2021 as the Pomerania Trail is added to the international UTMB calendar.
Inspired by the notion to "Keep Innovating", NITECORE specially creates ideal solutions for riding and trail running. We design various products to light up the ways of riders and runners helping them finish the races, such as bike lights and headlamps. Therefore, NITECORE offers the BR25 High Performance Ultra Compact Bike Light and BR35 Rechargeable Bike Light with Dual Distance Beam to riders in the MTB Pomerania Maraton while providing UT27 Ultra Lightweight Dual Beam Fusion Elite Headlamp for runners in Pomerania Trail.
BR25 – High Performance Ultra Compact Bike Light
The NITECORE BR25 is the high performance ultra compact bike light with a max output of 1,400 lumens, 4 brightness levels and Warning Flashing Mode. It is all purpose applicable including road cycling, mountain biking, outdoor adventures and portable lighting to guarantee you night safety.
BR35 – Rechargeable Bike Light with Dual Distance Beam
The NITECORE BR35 is the rechargeable bike light with dual distance beam to provide a max output of 1800 lumens and a max throw of 176 meters. Powered by a built-in 6,800mAh Li-ion battery, the BR35 is available with 4 brightness levels and 1 special mode.
UT27 – Ultra Lightweight Dual Beam Fusion Elite Headlamp
With the all-purpose design, the NITECORE UT27 is equipped with dual beam, spotlight and floodlight, featuring a max output of 520 lumens and a weight of 74g. Designed with the glow-in-the-dark battery compartment and Lockout Mode, it has dual hybrid power source, powered by the HLB1300 Li-ion battery pack and compatible with 3 x AAA batteries. What's more, it is all weather applicable as IP66 rated.