HOME
>
ABOUT
>
PRODUCT AWARDS
NITECORE NES300 and TINI2 Awarded as Product Design Winners 2021, kapok Design Awards
December 8th 2021
The kapok Design Awards China, one of the most influential design awards in China has revealed its awardees. As two innovative products from an "All-round Flashlight Expert", the NITECORE NES300 and TINI2 have both been recognized as Product Design Winners among a lot of entries after screening by a jury of several experts and opinion leaders from the areas of "investment, development, design and media".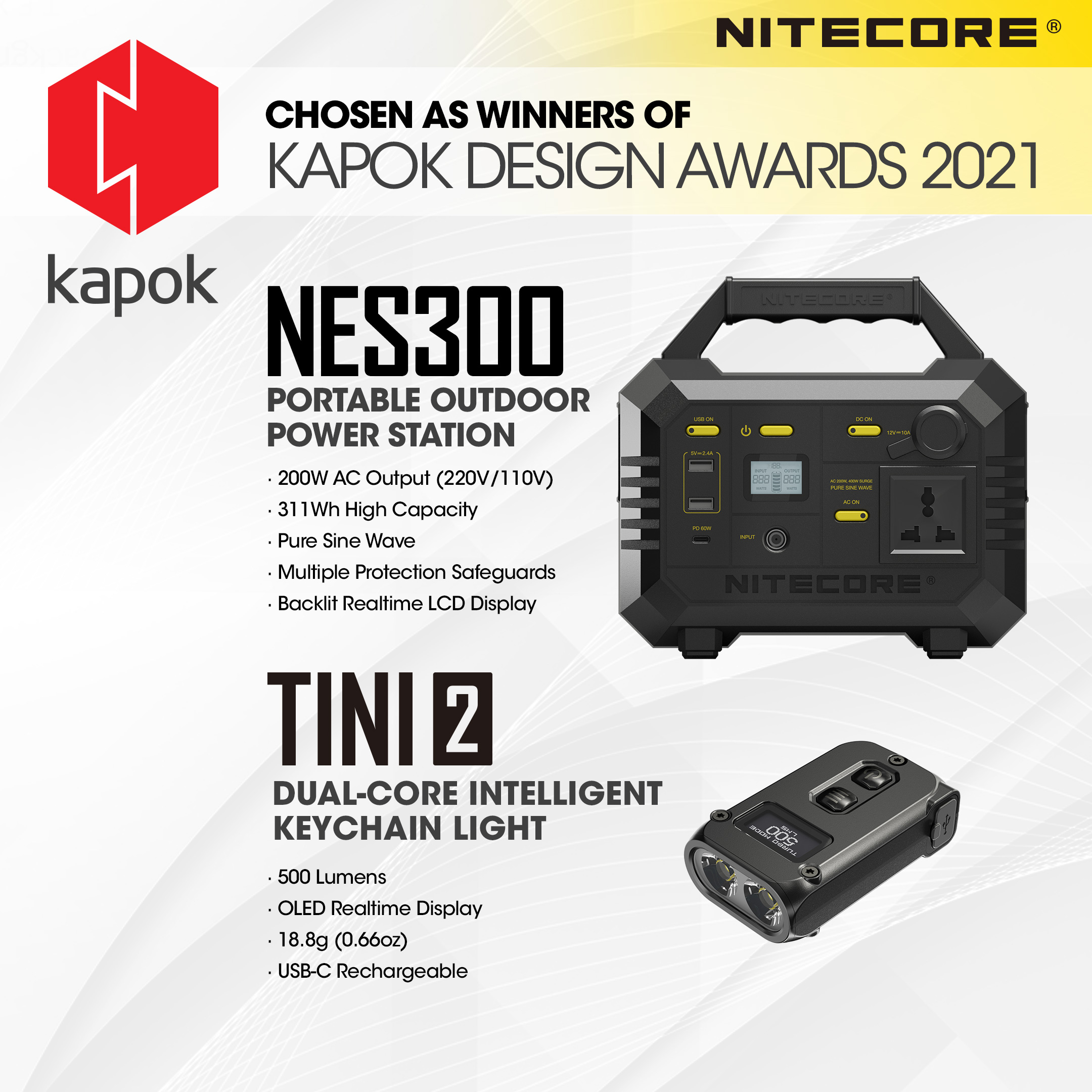 Equipped with next generation 18650 Li-ion batteries, the NITECORE NES300 has a large capacity of 311Wh and a high output of 200W. It can provide pure sine wave AC, USB, and cig lighter outputs, offering simultaneous and versatile power to support road trips, outdoor works, photography and emergency needs. The modular battery pack and advanced battery management system (BMS) can maintain an excellent stability and the best performance.
Combined with a total reflective optic lens, the NITECORE TINI2 utilizes 2 x OSRAM P8 LEDs to provide a max output of 500 lumens, 32% higher than the previous generation, and a max throw of 89 meters. It is equipped with an OLED realtime display, USB-C charging port, and Advanced Power Cut-Off (APC) Technology while having a thumb-sized technical breakthrough. What's more, the TINI2 has a built-in 280mAh Li-ion battery and two user modes.
As one of China's most influential product design awards held by Guangzhou Design Week and recognized by ICSID, ICOGRADA and IFI, kapok Design Awards has generated a number of avant-garde, leading, unique design concepts and lifestyles for the Chinese consumer market.
Inspired by the notion to "Keep Innovating", NITECORE has once again shown the technical breakthroughs and outstanding product engineering to the international market. In addition, NITECORE will continue to keep improving and offer more high-end products to our fans and customers all over the world.