HOME
>
ABOUT
>
PRODUCT AWARDS
NITECORE NWE30 Awarded as IDEA 2021 Featured Finalist and Good Design Award 2021
October 20th 2021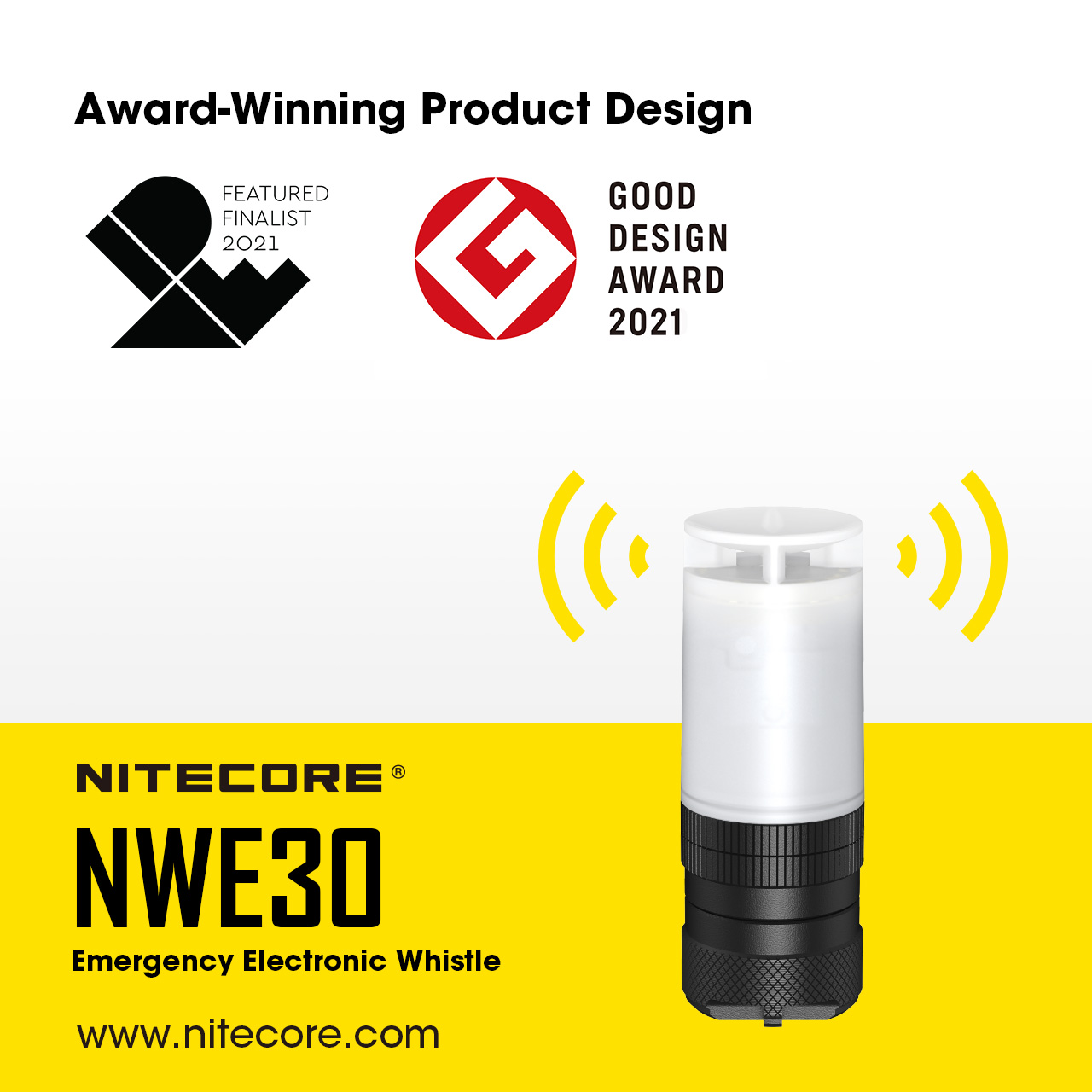 Among thousands of entries, the NITECORE NWE30 has been recognized as IDEA 2021 Featured Finalist and Good Design Award 2021, which is the third time that NITECORE has won an IDEA Award while winning a Good Design Award for the second time.
2021 marks the 41st anniversary of the International Design Excellence Awards (IDEA), one of the longest running and most prestigious design awards programs in existence. Originally founded to recognize exceptional achievement in industrial design, the program has since grown to highlight design in many connected disciplines including design strategy, branding, digital interaction and so much more.
The Good Design Award is a movement aimed at enriching our lives and society through design. Since the foundation in 1957, it has been commonly known together with the "G Mark", the symbol of winning the award.
The NITECORE NWE30 is an ultra compact emergency electronic whistle, specially designed for outdoor emergencies. As the first emergency electronic whistle in the world, the NWE30 is integrated with an electronic sound system to make a buzzing output of 120dB with an easily operable twist-and-buzz interface, instead of the conventional unsanitary method of blowing, saving the necessary energy for the user when a severe injury, hypothermia or hyposthenia occurs. Besides, the NWE30 is also equipped with an omnidirectional sound diffraction system to transmit signals in all directions. What's more, the automatic beacon flashing of 2000 lumens in the dark and the max runtime of 72 hours of the NWE30 are ideal for rescue, defense, EDC, adventures, trekking, biking, and so on. In a word, NWE30 is your ideal whistle to seize the best opportunity of being rescued at any time and any location.
The design has been integrated into every part of our lives. It can be adventurous or full of creativity and enthusiasm, but it is definitely purpose-driven. Just as NITECORE keep innovating consistently. Therefore, the NWE30 conforms to the ideas of the IDEA and the Good Design Award with excellent and innovative design, meeting the needs of the user and promoting the development of social science and technology. The recognition of the international industrial design award is the guide to the new era, meanwhile, it is also the motivation for NITECORE to go further!