NITECORE LA10 Recognized as Winner of Red Star Design Award
January 7th 2020
Recently, the Red Star Design Award has revealed its winner list. We are actually more than thrilled to be informed that the NITECORE LA10 Lipstick Camping Lantern is awarded by the jury of 12 international members from Germany, the USA, Switzerland, France, the UK and China among nearly 400 entries.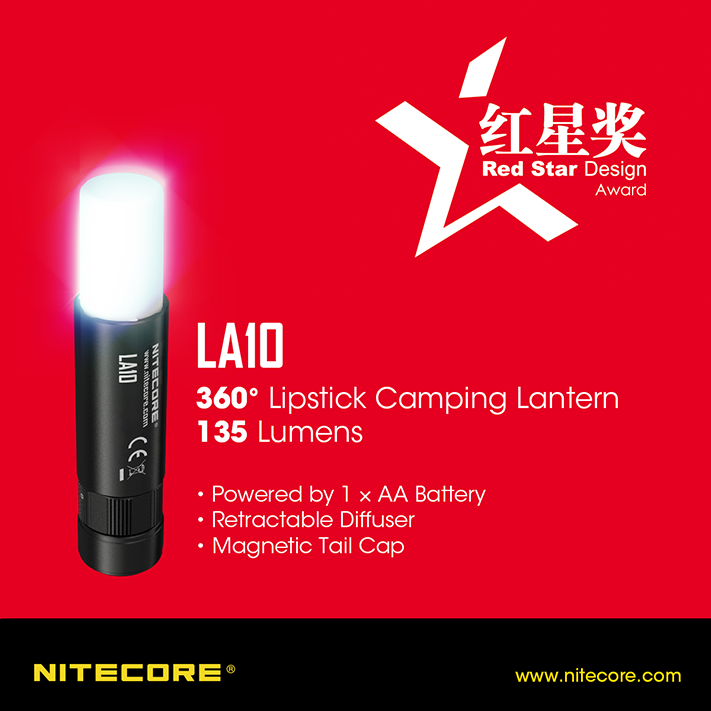 The NITECORE LA10 mini camping lantern has a maximum output of 135 lumens from the CREE XP-G2 S3 LED. On the brightest setting the LA10 has an effective illuminated area of 10 meters in diameter. Powered by 1 x AA battery, it offers a max runtime of 23 hours, making it extremely easy to attain power source. It is IPX6 rated and equipped with a lanyard for hanging as well as a magnetized tail cap so your light can be conveniently placed for hands-free use, ideal for EDC (Everyday Carry), walking, camping and hiking etc.

In 2006, China Red Star Design Award was established in China to encourage good design and promote design industry. Red Star adheres to the principle of "Fairness, Justice, Commonweal, Top-level and Internationalization". It has been inviting domestic and international well known design experts to judge the entry products, and guarantees the award's international level and public credibility.

Nowadays there is a rising trend towards combination of the industry design with technologies and cultures. The innovative power of NITECORE is once again recognized by the members of the Red Star Design Jury. NITECORE will "keep innovating" in the future to make breakthroughs and release more and more intelligent and innovative products to the global market.